Bricklayer's Accident Report | Exclusive Special Report | Special Report Part 2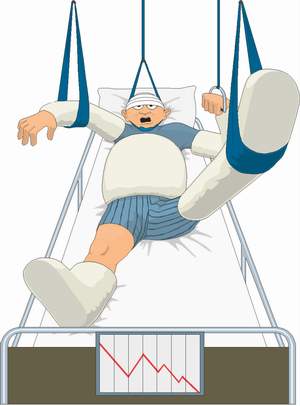 BRICKLAYER'S ACCIDENT REPORT
Gentlemen:
I am writing in response to your request for additional information in block #3 of the accident reporting form. I put "poor planning" as the cause of my accident. You said in your letter that I should explain more fully and I trust that the following details will be sufficient.
I am a bricklayer by trade. On the day of the accident, I was working alone on the roof of a new six-story building. When I completed my work, I discovered that I had about 500 pounds of bricks left over. Rather than carry the bricks down by hand, I decided to lower them in a barrel using a pulley, which was attached to the side of the building at the sixth floor.
Securing the rope at ground level, I went up to the roof, swung the barrel out and loaded the bricks into it. Then I went back to the ground and untied the rope, holding it tightly to insure a slow descent of the 500 pounds of bricks. You will note in block #11 of the reporting form that my weight is 155 pounds.
Due to my surprise at being jerked off the ground so suddenly, I lost my presence of mind and forgot to let go of the rope. Needless to say, I proceeded at a rather rapid rate up the side of the building.
In the vicinity of the third floor I met the barrel which was now proceeding in a downward direction at an equally impressive rate of speed. This explains the fractured skull, minor abrasions and the broken collarbone, as listed in section III of the accident reporting form.
Slowed only slightly, I continued my rapid ascent, not stopping until the fingers of my right hand were two knuckles deep into the pulley which I mentioned in paragraph #2 of this correspondence.
Fortunately, by this time, I had regained my presence of mind and was able to hold tightly to the rope, in spite of the excruciating pain I was now beginning to experience.
At approximately the same time, however, the barrel of bricks hit the ground- and the bottom fell out of the barrel. Now devoid of the weight of the bricks, the barrel now weighed approximately 50 pounds.
I again refer to my weight in block #11. As you might imagine, I began a rapid descent down the side of the building.
in the vicinity of the third floor, I met the barrel coming up. This accounts for the two fractured ankles, broken tooth, the severe lacerations of my legs and lower body.
Here my luck began to change slightly. The encounter with the barrel seemed to slow me enough to lessen my injuries when I fell into the pile of bricks and, fortunately, only three vertebrae were cracked.
I am sorry to report, however, that as I lay there on the pile of bricks in pain, unable to move and watching the empty barrel six stories above me, I again lost my composure and presence of mind and let go of the rope.
Sincerely, Policy #XYZ 23456

**** EXCLUSIVE SPECIAL REPORT ***

NEW RULES FOR EMPLOYEE INJURY AND ILLNESS PREVENTION PROGRAMS:
Labor Code section 6401.7(a) which was enacted by the Legislature in 1989, requires
EVERY EMPLOYER to "establish, implement and maintain as effective injury and
illness prevention program" in accordance with standards to be adopted by the
Occupational and Safety Health Standards Board by January 1, 1991.
NEW REQUIREMENTS:
The regulations require that by July 1, 1991, every employer shall "establish, implement and maintain an effective Injury and Illness Prevention Program". (Cal. Code of Regulations §3203(a).
The regulations contain detailed specifications for such injury and accident prevention programs. These specifications basically track the provisions of section 6401.7.
Programs must be written and must address unhealthy workplace conditions and work practices, as well as those which are unsafe. More particularly, programs must:

| | |
| --- | --- |
| | Pinpoint authority and responsibility for carrying them out; |
| | Include a system for ensuring that employees comply with safety and healthy work practices; |
| | Include a system for communicating with employees about safety and health matters in "readily understandable terms" (employees must be encouraged to report hazards with assurances against reprisal); |
| | Provide for identifying and evaluating hazards (safety inspections must be conducted when a program is established when a new hazard is introduced and when an employer is "made aware" of a new or previously unrecognized hazard; employers who already have a program on place on July 1, 1991, which complies with previously existing section 3203 are excused from the initial inspections); |
| | Include a procedure for investigating occupational injury and illness; |
| | Include methods and procedures for correcting hazards "in as timely manner based on the severity of the hazard"; and, |
| | Provide training and instruction (training must be conducted when the program is established, when a new employee begins an assignment, when a new hazard is introduced or when an employer is made aware of a previously unrecognized hazard; training is also required of supervisors, so they are familiar with hazards to which the employees they supervise are exposed). |

Employers with fewer than 10 employees may communicate orally with their employees about general safe work practices. and may instruct them orally about hazards unique to their job assignments.
Constructions industry employers will have to satisfy additional requirements § Cal. Code Regulation § 1509.
Employers must maintain records of inspections, hazards identified, corrective action taken and training given.
The proposed standards also specify the procedures under which a labor/management safety committee must operate, if an employer chooses to establish one for its employee communication purposes.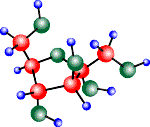 There are sound business and legal reasons for employers to embrace the new standards conscientiously. For one, it is a conservative course to ensure avoidance of a CAL/OSHA citation and fines for inadequate or non-existent programs.
In addition, the absence of an effective program may inspire the assertion of an uninsured "serious and willful" claim by the lawyer for a workers-compensation applicant if implementation of a program might arguably have prevented the injury or illness at issue.
Finally, investment in a safe and healthy workplace can pay off in limiting the upward pressure on both workers-compensation and health-care costs.
Future Focus Safety Management is prepared to assist you in ensuring that your business complies with all of the steps for Senate Bill 198; we can efficiently implement your program, enabling you and your company to be assured that your responsibilities as an employer have been met.
Contact us today... before there is a problem!


CAL OSHA HOLDS FINAL HEARING REGARDING FINE INCREASES---
The Public Hearing Department of CAL OSHA recently held the final hearing on the proposed increase in general and serious fines for OSHA regulation violations.
The proposed fine increases CAL OSHA will be implementing in the next few months are:
For general violations: The maximum penalty has been increased to $7,000.00 up from $2,000.00. The minimum penalty has also been increased to $500.00 up from $50.00 in most cases.
Serious and willful violations have also been restructured and increased across the board,($70,000-$1,000,000) with eliminations and reductions in various abatement credits that usually lower the OSHA fine should a company receive a notice of violations.
CAL OSHA will now submit the proposed regulations to their legal department, who will review and accept them and issue the final written form. CAL OSHA anticipates that the new regulations will be available in the middle of 1992 to the general public.
Future Focus Safety Management will continue to update their clients on CAL OSHA activities as new regulations and procedures are introduced.